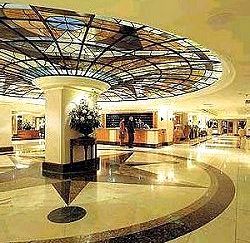 A specialty importer and distributor of fine-quality marble window sills and thresholds, Stonexchange is a Miami-based company that delivers large-size wholesale orders to retailers, flooring companies, and construction contractors. We offer guaranteed quality, dependable delivery times, and a wide selection of all sizes and colors. Businesses requiring extremely large orders of marble can rely on us to provide just the style and shade needed. We specialize in producing customized orders for non-standard size marble sills and thresholds.
Our company keeps a huge inventory on hand at our Florida distribution center. Pricing is well below market average because we order our marble in bulk, import it in full crate loads, and have a constant supply of new material arriving in all the standard lengths and depths. We can fill orders on a repeat basis and deliver them directly to home improvement centers, job sites, or retail warehouses.
What Makes Us Unique
We stock almost all sizes a project might need in large quantities. Our inventory has depths of 3-inch up to 18-inch window sills. This material requires expert cutting and polishing, but our product comes ready to install. This is because our manufacturing operation is located near the quarrying sites and can fill extremely large orders, pack them for shipment and distribution, and send them directly to our headquarters in Miami.
Wholesale distribution of natural marble stone saves money because:
•          Freight costs are reduced
•          Import tariffs are lower on full crate loads
•          We oversee the shipment and distribution process ourselves
•          We can offer discounts because of our huge order delivery capability
Marble window sills can be purchased at an area retailer, but the pieces are often priced by the unit. This means that only a slight discount is offered on larger orders. Many of the flooring material supply stores cannot fill an order for an entire residential construction project or commercial building. We offer our business customers the ability to order pieces by the thousands, and we can also arrange for custom cutting of non-standard size sills by our overseas manufacturer.
A Huge Selection of Marble Sills
Marble is one of the most beautiful and durable stone materials for both interior and exterior building projects. Its extreme weight makes shipping costly unless a large amount is imported. Our company maintains a huge inventory of standard sizes at our distribution center, and we can fill large orders for commercial customers simply by contacting our overseas manufacturing operation.
Marble is cut from quarries using sophisticated saw blades or cutting cables. It is graded according to color patterns, sliced into thinner sheets, and cut into perfectly dimensioned window sills or thresholds.
We stock Carrara and Crema Marfil, both of which are very popular and blend naturally with other interior shades used in both residential and commercial structures. Carrara White Marble is often used for projects calling for shades such as Alabama White, Carbonia, Cherokee, Georgia White, Oriental White, or Vermont White. These are the most commonly ordered shades in most parts of the United States.
Carrara is a white/gray color combination that works well for classic building designs. This is the type of veined marble commonly seen in building columns. It is equally attractive as a window sill.
Crema Marfil has a wonderful look when polished or honed. This material is a cream/beige and works just fine for building projects calling for Botticcino or Bursa Beige marble.
Our Bulk Ordering Process
Our company stocks all of the standard window sill length marble pieces. Our Carrara marble sills are available in 74-inch, 56-inch, and 37-inch lengths. Our Crema Marfil window sills are manufactured in 74-inch, 60-inch, and 37-inch lengths.
We supply 74-inch Carrara sills in widths ranging from three inches to 18 inches. Our 56-inch marble sills are available in widths from 3 inches to 10 inches, and our 37-inch sills come in 4-inch, 5-inch, and 6-inch widths.
Our 74-inch Crema Marfil sills are available in widths ranging from five inches to 10 inches. The 60-inch length sills come in widths of five and six inches, and the 37-inch sills are available in widths of five and six inches. Our marble window sills are 5/8-inch in depth. This is the preferred thickness for both residential and commercial sills.
We do not sell individual pieces to homeowners or retailers. Our minimum order is between 50-100 pieces depending on the style and sill length.
A large construction project may require as many as 500 or more window sills. Obtaining them at a reasonable cost is important when submitting a job bid. This is where our company can be of invaluable assistance. We can supply hundreds of sills in a single order, either sent directly from our distribution center or as a special order from our manufacturer.
Large flooring supply chains and home improvement centers can also save money when ordering our product in bulk. We have a huge number of clients who regularly order hundreds of pieces in order to maintain a full inventory.
Orders that require shipment from an overseas manufacturer generally require about two months of lead time. The same is true for repeat orders on large quantities of marble.
Custom Orders for Non-Standard Sizes
We understand some projects are special and do require special or custom sizes. If minimum order quantities are met, we will manufacture and import custom size window sills. Customers interested in ordering non-standard sizes of marble may have to place the order well in advance because of the time it takes the manufacturer to cut the sizes accordingly. It takes around 8-10 weeks to receive the custom marble window sills to our warehouse once the order is placed.
Quality Control Is Our Business
We take the time to carefully pack orders in specialty shipping crates for overseas transport. Full crates of a single style and size window sill are packed at our manufacturing plant and transported to the United States via container ship. Upon arrival, the order is carefully checked for damage before being sent to the customer.
Our distribution center handles orders for retailers and construction companies so long as the piece count can be filled without having to place a request with our manufacturer. The orders are carefully packed into specially designed wooden crates that are interlocking and stackable. The order is then placed on a trailer and sent directly to the customer.
Most orders are figured with up to 10 percent breakage or damage allowance. Our job is to minimize damage by making sure that the order is tightly packed, protected from impact, and secured according to strict delivery standards by our freight company partners.
We can fill orders originating at our distribution center in less than 24 hours. We can arrange for rush service from our Miami headquarters, and we offer rush service from our overseas manufacturing operation as well. This applies to the largest orders, meaning that customers can request rush service or air delivery from our overseas manufacturer.
We Also Stock Marble Curbs and Thresholds
The same cutting technique used to produce marble window sills is employed to manufacture shower curbs and floor thresholds. Our marble curbs are available in both Carrara and Crema Marfil, and we also have a large inventory of Absolute Black granite sills and thresholds. Another popular product often requested by construction companies and retailers is engineered stone. Our Pure White stone is a glass and resin composite and is available in 74-inch lengths.
Custom sizing and beveled curbs can be ordered in bulk as well. The lead time for such orders will be approximately 10 weeks. Customers can speak with one of our service representatives about specialty orders for beveled curbs and thresholds. Minimum order counts will apply for these custom requests.
Our Customer Guarantee
Stonexchange offers commercial customers the finest quality natural stone products on the market. We realize that ordering marble products involves placing trust in the import company when it comes to the correct color shade, size, and overall quality of the material. We can provide customer testimonials that give new clients an insight as to how we conduct our business, and we stand by our pledge of rapid delivery and minimal damage when filling large orders of marble window sills.
We are aware that inventory needs vary according to the building season as well as the national economy. Our company does not charge fees for order changes, nor do we insist on a minimum number of repeat orders. Our prices are guaranteed regardless of how many orders are placed.
So long as the customer orders the minimum amount of pieces, we will deliver them on time and on schedule. Retail outlets, contractors, and flooring material suppliers can rely on us for reasonable freight costs, guaranteed quality of the marble and perfect color match.
Contact Us for Product Details
We are standing by to answer any questions our customers have concerning orders for marble window sills. Contact us today, we will be happy to give an immediate price estimate and delivery schedule for your bulk order of marble.
Use the handy contact form to get the process started. Our company is ready to supply businesses and contractors with the finest marble window sills and thresholds available, and our wholesale prices cannot be beat.